Foie gras with sautéed Miss Chef® Apples, gingerbread crisps and port sauce
Entrées
Nombre de personnes : 4
Difficulté : 1
Temps de préparation : 30 minutes

PT30M

Temps de cuisson : 35 minutes

PT35M
---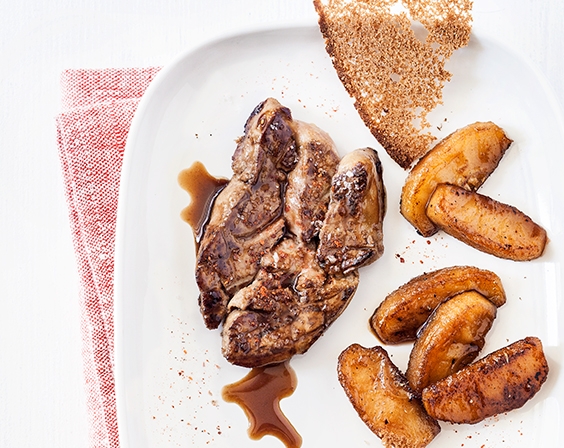 Ingrédients
500g Miss Chef® Apples (or 4 apples)

Foie gras

4 very thin slices of gingerbread or French pain d'épice

40g of port

10g butter

10g honey

Fleur de sel

Freshly ground pepper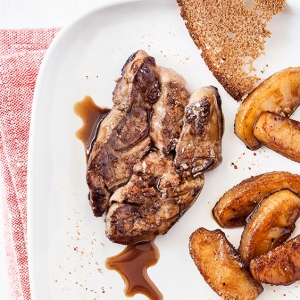 Préparation
Wash and peel the apples. Cut them into four. Remove the pips.

Cut the foie gras into thick slices and put it in the fridge to chill.

Cover a baking sheet with a piece of baking paper and lay 4 very thin slices of gingerbread on top.

Put the baking sheet on a shelf in the middle of the oven for 20 minutes at 180°C.

Put the port in a saucepan on a medium heat to reduce until it makes a thick shiny sauce.

Brown the apples in a frying pan with the butter and honey. Carefully prick an apple to see if it is cooked. The apples should be tender.

Heat a non-stick frying pan and cook the foie gras very quickly over a high heat. Fry for 2 to 3 minutes on each side.
Presentation:
Take a warm plate and position the sautéed foie gras on one half of it and the apples on the other. Drizzle the port sauce over everything. Season to taste and serve immediately.
---
Trucs et astuces
When cooking the foie gras in the non-stick frying pan, make sure that the pan is hot, but not too hot. If the pan is too hot the foie gras will look cooked on the outside but it will be raw and cold on the inside. You can also cook foie gras escalopes on a cast iron griddle.
---
Vote des internautes
Note moyenne :
5
/
5
(
0
votes)